Course Details
Course Code: UKFEC16DGD
Location: Online
Duration: 10 hours
Cost:

£

100.00
Qualification: All modern browsers and devices
Further Details
Course Access: Lifetime
Exams Included: Yes
Compatibility: All major browsers / devices
Approved Course:
A003150
Dog Grooming Diploma
Do you love working with animals and want to direct your career towards spending your day pampering and grooming them? Are you looking to secure a position in dog grooming or maybe start your own mobile business in your local area? Then the dog grooming diploma may be the right option for you.
Introduction to the dog grooming diploma
The dog grooming diploma is an information packed course that is broken down into easy to manage modules which you can study at your own pace and in the comfort of your own home. Each module focuses on different elements of dog grooming, providing you with the knowledge you need to make the animal comfortable, exceed at the job and achieve success moving forward.
The course is online, which enables you to study from anywhere at any time using any device. You get a lifetime access to your course modules, so you can revert back to them as and when needed with ease.
Once you have completed the course, you will be required to complete a multiple choice test. On successful completion you will be able to download and print your industry recognised certificate without delay. In the event you don't pass the test the first time, you will be given a second chance to take the test, once you have had the time to go over the course notes.
What you will learn
Each module is designed to provide you with valuable knowledge and insights about the industry to help you achieve success in your dog grooming career. The course will teach you the following:
Learn why pet grooming is important, what equipment you need and your personality when dealing with animals.
Get to understand the history behind pet grooming.
Understand the anatomy of dogs, basic health, parasites and maintaining health.
The importance of a pre-grooming health assessment and keeping clients updated on their pet's health.
Learn about the various skin and health disorders, along with the best way to groom a dog.
Get valuable information on starting your own pet grooming business from identifying if it is the right choice for you to creating a business plan and more.
Learn how to train dogs to enjoy a bath, steps leading up to a bath and bathing a fearful dog.
Know how to set up your grooming area, workstation requirements, tools you will need, lighting and airflow.
Learn when a dog should be referred to a vet.
Learn the best way to bath a dog from the clothes you should be wearing to getting the dog in the bath.
Learn the best way to dry a dog. Get an understanding on why shaking is so important, identify the best methods from air and towel drying to drying between the pads on the paws and more.
Understand detailed grooming, such as nail clipping, eyes, ears, teeth and feet.
Get a good understanding why you need to keep your workstation neat and tidy and why appearance is so important.
Learn the various grooming emergencies from untangling knots to working with rescue dogs to emergencies and more.
Know the law. Know what is expected of you as a business owner in the dog grooming industry from first aid to basic health and safety.
Benefits
There are numerous benefits to taking a dog grooming course online and securing your certification. The benefits include:
Enjoy the convenience of superior online support throughout your studies
Study using any device, as long as it is connected to the internet
Study from anywhere, on the bus on your way home from a full day at work or when you get home and you are relaxing on the sofa.
Study and still work a full day with ease.
Study at your own pace and in your own time. You can take a week to complete the course or a month or more, this is down to your personal preference and time you have available.
Fast track your career in the pet grooming industry.
Boost your chances of opening your own successful grooming business.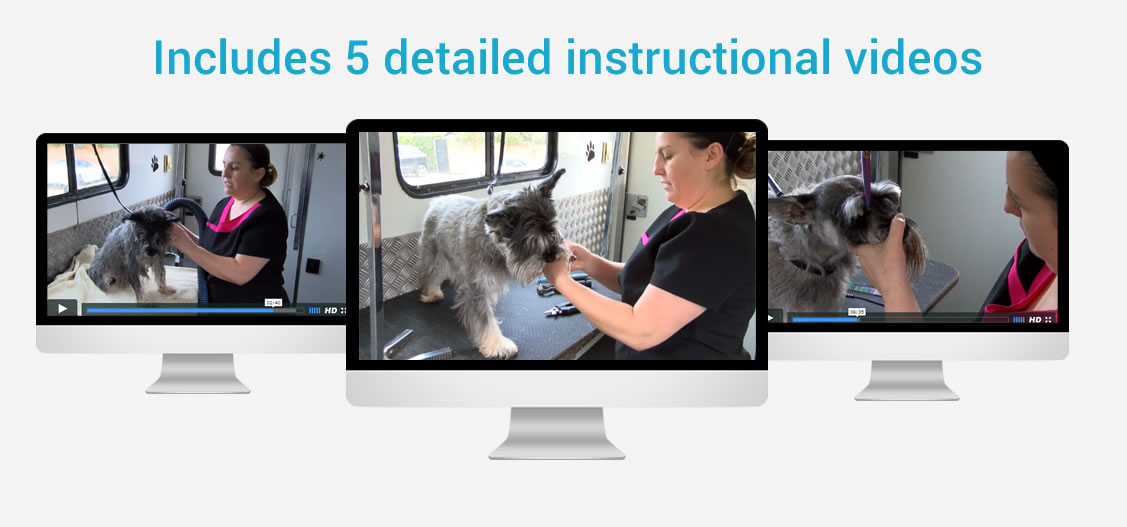 Course Modules/Lessons
What our students have to say…
The videos are clear and the course is easy to understand
This course is so easy. I was a little nervous before I started it but even after the first module I was at ease.
The videos are clear and the course is easy to understand.
Everything I need to learn is here, from the basics like handling to bathing to full grooming. You can save the work on to your pc or laptop as you go along so you can go back over it later on. At the end of each module you even get time to practise what you have learnt.
I'm so glad I found this company and will highly recommend.
Kirsty Wilson – Preston
Very informative
This course was very informative and I loved that it could be done at my own pace and not have deadlines to reach.
Even my dog loved the benefits and being my practice dummy!
Nicky Corbett – Kidderminster
My previous knowledge on dog care has expanded tremendously
I must honestly say that this course website is a great help for learning new information on previous courses as I did a Premiere Animal Care 1 year course.
Ever since my mum introduced me to this website and got me on the "Dog Grooming Diploma" course through New Skills, we also came across many other great courses and offers and not only did I learn new skills, techniques and information while working on my modules, my previous knowledge on dog care expanded tremendously!
I would definitely recommend this website to friends and family to help them gain skills, experience and knowledge on whatever job they are hoping to get with the qualifications from their chosen course.
Parmjit Uppal – Bilston
I have learned so much by completing the course
I really enjoyed completing this course, it was very informative and has boosted my confidence so much that I feel excited about moving forward with my new career.
I have learned so much by completing the course and I cannot wait to put it all into practice.
I completed the course after studying at my own pace, there was no time scale to finish it which I was happy about and the support team were very quick to respond to any queries that I had at any time throughout the learning process. I love that I have my certificate and I feel very proud of myself.
Elizabeth Byrne – Scotland
I enjoyed the videos attached to the course which were very detailed
I was very pleased to find a course online which suited both my financial and learning needs.
Really enjoyed the course and would like to take this further. I would recommend this course and found it good value. There is a lack of this type of course available in any colleges in Scotland.
The course has given me motivation to learn and research online about different breeds of dogs and their care. I enjoyed the videos attached to the course which were very detailed and easy to follow. I have since purchased the brushes and tools recommended and have had a chance to put into practice what I have learned.
Margaret Whitehead – Glenrothes
I found the video tutorials very helpful
Very enjoyable and informative course which covered all aspects of dog grooming, managing the business side and history of dog grooming.
What I liked most was being able to do the course at my own pace, revisiting modules as required to gain a complete understanding of what I was learning. I found the video tutorials very helpful and was able to give my own dog a professional cut after watching them. On the one occasion I forgot my password, online help were very prompt in helping me. I would highly recommend this course. Good value for money. Thank you New Skills Academy!
Jacqueline Myers – Belfast
This has been the best decision to complete this course.
This is a really great course, its content is really useful.
It's great value for money and it's not at all stressful. It's so easy to understand, yet it covers complex aspects regarding safe practices. It let's you stop and start the course, which means I can still work in a full time job, which won't effect me financially.
This has been the best decision to complete this course. I'm really keen to learn more skills, and maybe do a few more courses to expand my skills set. I will most definitely be using New Skills Academy to help me!
Samantha Holmes – Lancaster
Easy to read and I found it really enjoyable and interesting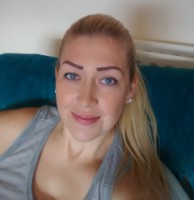 This course is really good. Easy to read and I found it really enjoyable and interesting as it was full of facts and information relating to the course.
It is nicely broken up into sections with short tests at the end and it doesn't feel too overwhelming, feels very manageable.
I especially like that there is no time limit on completing this course, being a full time mum of two small children my life is pretty hectic so it's great that whenever I get half an hour free I can sit and do as much or as little as I want.
Lauren Jones – Bedford
I enjoyed this Diploma so much I shall be having a go at another pet/dog related one in the very near future!
Thoroughly enjoyed this course. Have decided to change my career path but have no real experience or qualifications in the job I really want to do.
I have always wanted to work with animals but ended up in the retail sector. While I do enjoy that, I feel now is the time to get out there and do what I want to do. I have sent in my CV to a dog groomer near me with a copy of my certificate attached. Fingers crossed!
I enjoyed this Diploma so much I shall be having a go at another pet/dog related one in the very near future!
Claire Hall – Spalding
I cannot thank this company enough for enabling me to fulfil a life dream of working with animals
I loved this course. I feel I could start my own business if I choose to but I prefer working for a company that is already established.
I found this course easy to understand and follow and found it highly useful that I could pick it up and leave it as I wished so I could fit it in around my life.
I am currently scouring the internet and papers and phoning companies in order to find myself employment with in this field of work.
I cannot thank this company enough for enabling me to fulfil a life dream of working with animals.
Lorraine Redknapp – Gillingham
Thank you for this opportunity, I am very grateful
This course is easy to read, it's given me a new avenue to go down and very happy with all the advice I have been given.
The modules give you the basics and knowledge required to start up on your own if you have the back bone to go and use it!
The staff are as helpful as could possibly be. Thank you for this opportunity, I am very grateful and will be carrying on to the next qualification as soon as I can.
Please note this is a real service and I really can't believe it's genuinely. Real big kiss to everyone who has helped me with this.
Elisa Jay – London
Have helped out so much
I love being able to study from home, the site is easy to use and I like being able to just log in and study for as long as I have free then pick it up again the next day or a week later.
I lost my job suddenly with no notice and decided to take the opportunity to get back into something new I intended to do long ago but just never had the time or money to do so. The great prices for online learning and being able to learn from home whilst doing part time work have helped out so much when on a budget and being unable to be able attend full time college courses.
Kirsten Owen, Surrey
This course is perfect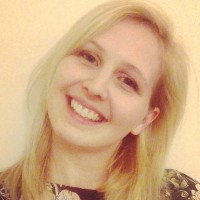 This course is amazing. It goes into so much depth and detail about every aspect of dog grooming, including the entrepreneurial and business side.
The course itself is divided into manageable modules, that you can study at your own pace, at any time of the day, and is easy to access.
The notepad feature is especially helpful, as you will need to take a lot of notes! For anyone looking to develop their dog grooming knowledge, or if you're just starting out, this course is perfect.
All the information is relevant and up to date, with video demonstrations and images, the worksheets and assignments throughout the course allow you to put what you've learnt into context and practice.
Emily Slade – Aylesbury
FAQ's
Who can take the Dog Grooming Diploma course?

Anyone who has an interest in learning more about this subject matter is encouraged to take the course. There are no entry requirements to take the course.

What is the structure of the course?

The course is broken down into 15 individual modules. Each module takes between 20 and 90 minutes on average to study. Although you are free to spend as much or as little time as you feel necessary on each module, simply log in and out of the course at your convenience.

Where / when can I study the course?

You can study the course any time you like. Simply log in and out of the web based course as often as you require. The course is compatible with all computers, tablet devices and smart phones so you can even study while on the move!

Is there a test at the end of the course?

Once you have completed all 15 modules there is a multiple choice test. The questions will be on a range of topics found within the 15 modules. The test, like the course, is online and can be taken a time and location of your choosing.

What is the pass mark for the final test?

The pass mark for the test is 70%.

What happens if I fail the test?

If you don't pass the test first time you will get further opportunities to take the test again after extra study. There are no limits to the number of times you can take the test. All test retakes are included within the price of the course.

When will I receive my certificate?

Once you have completed your test you can log in to your account and download/print your certificate any time you need it. If you would prefer us to post you a certificate to a UK address, there will be an admin charge of £10 (certificates sent internationally may cost more).

How can I pay?

You can either use your Visa, MasterCard, American Express, Solo cards or PayPal account to pay for the online course. Our site uses the latest SSL encryption to ensure your safety. All payments are handled securely by PayPal.

How long after payment can I begin the course?

You can begin the course immediately after your payment has been received. You will create your login details during the checkout process. We will also send you an email confirming your login details.

How long does it take to complete the Dog Grooming Diploma course?

We estimate that the course will take about 10 hours to complete in total, plus an additional 30 minutes for the end of course test.

How long is my certificate valid for?

Once you have been awarded your certificate it is valid for life. The certificate does not expire or need renewing.